4 SALE: Campervan Sprinter / June 2020, SW-USA / US$ 7.800
(Fahrzeug abzugeben)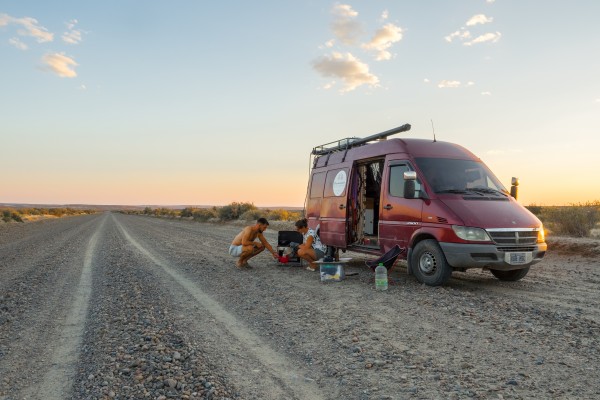 PRICE USD 7.800

YEAR 2005

Dodge Sprinter 2500 2,7l

Mileage: 390.000 miles

Location of Sale: South West USA

Time of Sale: June 2020

Country of Origin: Quebec, Canada

CAR DETAILS:
Dodge Sprinter 2500 2,7l (2WD Backwheel) with automatic transmission
Everything inside is from Mercedes (313, 316, 415) - pretty easily available in every bigger city
160 PS (this baby got power!)
400.000 miles chassis
Change of the engine at 326.000 miles
Cruise Control
Air Conditioning (without, you'll die)
Traction Control, central locking system
Side windows with dark polarization
Front window with light polarization
High clearance (we never touched stones)
New tires (11/2018)
U-Joint, Brake fluid changed, wheel alignment (03/2019)
Transmission filter and oil (07/2019)
Transmission changed in Quito (11/2019)
Differential oil changed (06/2019)
Radiator cleaned, fan clutch changed, suspension front changed (12/2019)
Air-/Oil-/Fuel filter changed every 10.000 km
There is rust on the chassis, especially on the slide door. We plan to exchange the slide door, but if we don't find one you'll get a price reduction of USD 100.

TECHNICAL EQUIPMENT:
2 x 100W Solar panels
Coleman 30AMP Solar Charge Controller
12V/120V 3000W Eliminator Transformer
200Ah AGM Deepcycle SolarBattery (bought in 04/2019, also being charged when driving)
6x Socket strip 120 Volt
Roof Rack - perfect for Surfboards, Cherrycans for Diesel (the watersystem is connect with the roofrack)
Pit Toilet 18L
Fridge (usable with 12V or 120V - it's also possible with gas but we don't try it)
2 flame-stove with oven
6.8kg Gas Bottle with Canadian System (we never had any problems filling it up)
55L outdoorshower system with 2 taps (1 for showering, 1 for washing hands)
20L tank with tap for drinking water
Roof top ventilation
Light system with LED-bulbs
Very good isolation with urethane foam (perfect for hot and cold nights)
Pretty much all tools you need - for European and American standard
Screwdrivers, pliers, cutting tools, duct tape, ties, ….
socket wrench set (Stanley) with American and European nuts
Black&Decker cordless screwdriver
2x lifting jacks
1x extra wheel
2x sand plates
1 tool box
Small shovel
8m waterhose with common adapters
Manometer
Starting cables
Duracell 600AMPs Jump Starting System (so far we only used it to help other people out)
5L and 20L tank for extra gasoline
2 slot USB charger for cigarette lighter
Bluetooth compatible Autoradio (also USB and CD)
smartphone holder for navigation

KITCHEN & LIVING EQUIPMENT:
Queen size bed (2 seperate comfortable 14cm thick matresses: 210cm x 80cm & 190cm x 60cm)
4 camping chairs (2 small and 2 bigger & more comfortable ones)
1 camping table
3 wooden drawers for kitchen stuff
2 big plastic boxes (tools, ducttape and small repair things inside)
3 wall organizers with lots of storage
2 ergonomic pillows
2 terry towels (frottee in German)
Shoe rack
Wooden Closet, door used as indoor table
lots of storage room, fixed hooks, small and big screws, small strong magnets, strong paperclips, ….
Complete set of pans, dishes, pots for cooking everything - even homemade pizza & bread!
corkscrew, salt- and peppermill, wooden chopping board

OTHER USEFUL EXTRA-STUFF:
2 Linen-Cotton Hammocks with ropes
2 extra-large Yoga mats
Lonely Planet Mexico (English)
Lonely Planet Central America (German)
Special outside places to hide the extra key for the car
Special inside places to hide money and small valueables
1.323 page Repair-Ebook for the car

FURTHERMORE:
The fairly low price for a fully-built and equipped van reflects the age and the mileage of the car. Overall, the car is reliable and in a good state as we took very good care of it.
We have no pets and are very tidy and organized. We are both very tall (1.85m & 1.95m) but we still found living in a Sprinter very comfortable. In our opinion it's the most reliable car which has the best balance between having space and being agile. Visiting cities won't be a problem and you won't immediately be unmasked as a tourist/traveler.

PAYMENT & REGISTRATION PROCESS:
The ownership transfer can be done by sending the drivers license and a power of attorney to SAAQ, the Canadian automobile authority. The payment can either be done in US$ or IBAN transfer in Euros.
For further information & more pictures (gerne auch in Deutsch) you can contact me via WhatsApp +43 699 1000 1517
Let me know if you have any questions!
---