FIAT Ducato 1993 Eura Motorhome, April 2020 Montevideo
(Fahrzeug abzugeben)
Campervan Fiat Ducato, Eura Mobil, 4 seater!!
We are a dutch/german couple travelling in this lovely motorhome around Southamerica. The camper will be for sale at the end of our 10 month trip in Montevideo around beginning of April, although it may be possible to get it some weeks or months later.
Here you can find the information about the camper, but if you have further question or you want to make an offer don't hesitate to contact us on whatsapp or email (English-German-). This is really a great home to travel with.
The Camper:
Fiat Ducato from 1993. Diesel engine, 2,5 liter with 75 PS/hp. Very simple and reliable mechanic! No troubles with southamerican diesel. It will have about 216 000 km on the clock. Very efficient! It takes about 10 liters for 100 km by a travelspeed of 80km/h on motorways.
The camper/motorhome:
It is a professional motorhome. Really good insulated for cold nights at Altiplano. It seats and sleeps 4! Very comfortable for two. Plenty of room to store all your belongings.
With the camper we have been able to drive up to 4850m without any problems. It goes slowly, but 5000m would have been possible. The car can also cope with bad gravel roads (Ruta 40) without problems. It has a large ground clearance and with a length of 540cm it is very agile. The engine was conscientiously maintained and all oil and filter changes were carried out according to the maintenance schedule. So the car drove us reliably through South America.
The car is technically in good condition, but due to its age it has some signs of use. The heating in the cab does not work. The hot water boiler would have to be repaired. We did not use it to prepare hot water to save our gas supplies.
- Kitchen with 3 burners and sink, all the needed for cooking is there (plates, pans, pots etc)
- 12V/220V/gas operated fridge with ice cold freezer
- 100 liter freshwater tank. 60 liter greywater tank
- 2 x 11kg gas cylinders (German Connection with adaptor) for cooking, heating and freezing
- Extra gas bottle (3kg) with cooking attachment for outdoor cooking
- BBQ
- bathroom with toilet, sink and shower
- there is a bed in the roof, that comfortably sleeps two
- dinette with table and 3 benches that can switch to a comfortable 140x200cm bed.
- all windows with mosquito nets
- 2 batteries and a 100 W solarpanel
- Truma gasheating with trumavent for cold days and nights
- 12V Hubs to charge several devices
- all the equipment like dishes, fans, blankes, pillows is coming with it
- 4 campingchairs and a camping table
- awning for hot days
- plenty of usefull extras such as generator, electric air pump, 2x20l canisters for extra diesel, tools etc.
- a folder containing all the original manuals for the camper and the equipment
- German plates
- 2017 the essential parts like clutch, breakes, toothed belt etc ( You will find a list in german in the picture section) were renewed, thats the reason why the camper is in a real good condition in spite of his age
- New tyres at mileage 208000km
For further information or if you want to make an offer please contact us.
The price will be fixed in euro - we would like to sell for 8500 euro. We are looking forward to hear from you. Responses may be delayed due to missing internet connection.
WhatsApp
Heidi +41 79 839 81 43
EMail
hdus@sourcepole.ch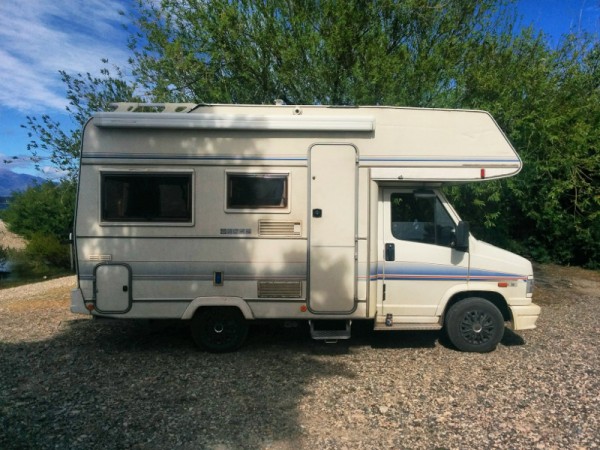 ---