SALE Toyota Hiace 4x4 August Peru/Santiago
(Fahrzeug abzugeben)
Hey there we are an austrian couple traveling SA from south to north at the moment!
We would like to sell our beauty El Volcan at the end of August in Peru. But for us it would be also possible to go back to Santiago de Chile.
If you are interested we have more Information and Pictures to give.
The Price is 8500 €.
Here's the Info (for german scroll down):
English
vehicle
Toyota Hiace, 2.4 EFI,
4x4 with terrain reduction,
120 hp about 305tKm when we sell it in July/August. JG 1992, long wheelbase. Raised with BF Goodrich terrain tires.
The BF is one of the best tires, because it is very good in the terrain and almost impossible to pierce (pointed stones).
With a tank filling you can reach 450km.
Tank includes about 65 liters.
German Plates
Interior
- 2 flames gas stove
- Gas heating Truma - indestructible
- Gas bottle
- 3 way refrigerator from Elektrolux (works with gas, 12V and 220V - gas and 220V cool very well, 12V is more to get the cold - this is the case with all absorbers)
- Various storage spaces
- Chills with 20l water canister - is better to refill than a tank
- Batteries, a starter battery and a battery for the camping area. These are separated by a relay when the vehicle is stationary or connected when the vehicle is running.
- storage space for clothes etc.
- 2nd bed upstairs, 1.90 x 1 m, with a comfortable mattress
- Complete kitchen equipment
- complete toolbox with everything needed for quick repairs
- table, 2 chairs
extras
-¬ - Pneuflickzeug
- Jack orange 4 tons
- Brake fluid
- WD40
- 2x spare lights
- bridging cable
- Various power adapters
- Gas connections
- 3x extension cable
- Power plug for different countries
- Metal brush
- Spare cable
- Texil adhesive
- General purpose glue
- Loctite (screw fixer)
- Replacement insulation
- Spare tent fabric (for roof tent)
- rubber hose
- 3x V-belt two lengths
- relays (for example for ventilation)
- Universal oil
- Various replacement lamps
- Replacement submersible pump (for sinks)
- Various tapes
- cigarette lighter
- Double plug cigarette lighter socket
- LED light
- Silicone gun with three inserted tubes
- Various tension belts
- Big yellow ratchet
- factory gloves
- Tow rope orange
- Cable ties various sizes
- padlock
- Coolant for engine
(mixed about 30% Coolant)
- Main power cable (Camping)
diverse material
- 2x camping chair
- Camping table (can be mounted inside and outside)
- Insulation mats for slices
- shovel
- wrench for wheels (behind driver's seat)
- Hi-lift (big jack)
- Toolbox
- 12Volt air pump for tires (behind driver's seat)
- First aid kit (behind driver's seat)
- Cover plates for ventilation slots refrigerator
- Cleaning material
- 2x hand brooms
- 2x replacement canister for gasoline 10L
- 2x spare wheel (1x without air under car difficult to remove)
- Gas adapter for filling (in kitchen drawer)
- Sewing kit (in kitchen drawer)
- Pressure tester for wheels (glove box)
- jukebox with cable (glove compartment)
- binoculars (glove box)
- 1x small guitar
- 2 mechanic manuals for Toyota Hiace
- Instructions for gas heating Truma
- Fire extinguisher (behind driver's seat)
- boxes (2x Rakobox, 1x metal box (lockable), 1x plastic box)
kitchen
- Cutlery for at least 4 people
- cooking utensils (trowel, ladle, spaghetti tongs, peeler, scissors, spatula,
2x cutting knife, kl. Whisk, fire lighters & tools)
- 4 cups
- 2 espresso cups
- 5 big plates
- 4 small plates
- 6 bowls
- 3 pots (1x coated)
- 2 pans (1x coated)
- 1 raffle
- 1 drip strainer
- 1 flat metal bowl
- 1 thermos bottle with two cups
- 1 small mass cup
- 2 small wine glasses
- 2 Tupperware
- 1 spice box with various spice jars
- 1 elongated sheet metal plate for fixing the stove cover
textiles
- 1x down duvet 2.15x2.20m
- 3x pillows
- 1x duvet cover
- 4x pillowcase
- 3x bedspread
- 4x towel
- various rags
- 2x bath towel
- 2x curtains
- laundry accessories (staples, sack, clothesline)
Price 8500 EUR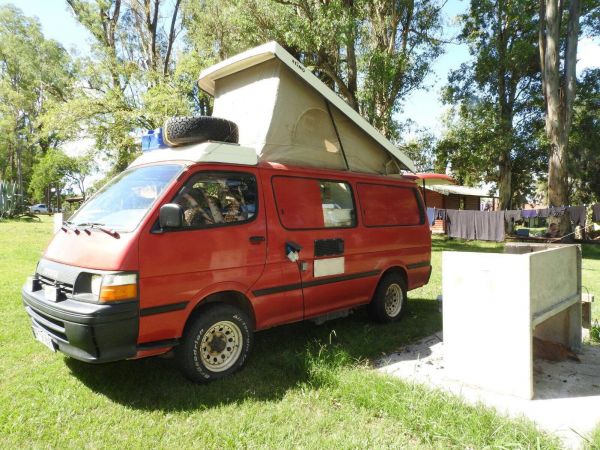 ---
SALE Toyota Hiace 4x4 August Peru/Santiago

- Chris and Kathi, 04.05.2018, 19:14