FOR SALE: GMC Safari 4x4 Campervan
(Fahrzeug gesucht)
***ENGLISH BELOW***
Hallo an alle,
ab Mitte/Ende April verkaufen wir unseren GMC Safari Van in Kolumbien.
WHATSAPP/SIGNAL: +43 664 91 21 354
MAIL: tobi1011 at zoho dot com
Hier die Infos auf Englisch:
FOR SALE GMC SAFARI 1999 AWD
End of April 2019
Colombia (exact location flexible)
USA Washington State License Plates (best for travellers!)
Title in our names, can be easily and officially transferred into your name
Price: asking 5800 USD or equivalent in EUR
Ready for a South American Overlanding Adventure with everything you need!
PICTURES: below, can not post links here :(
The Van:
• GMC Safari 1999 All Wheel Drive (AWD, switchable!)
• 4.3L V6 Engine, 193 Horsepowers
• Selectable 2WD/4WD/AWD (fuel economy)
• will have around 228.000km (142.000 miles)
• 4-Speed Automatic Transmission
• Dutch Doors
• Air-condition (really a blessing!), heating
• Cruise Control
• BF Goodrich All Terrain tires, good for another 20.000km
• 2" (5cm) Body Lift
• good clearance
• 3 speed vent above bed (a blessing for hot nights!)
• 100 W solar panel
• 100 Ah deep cycle Batt, charged via solar panel and alternator
• wooden plank ceiling
• Interior LED Light
• Exterior LED Floodlights
• Custom fitted Matress (approx. 140Cmx160cm)
• Privacy curtains
• tinted windows
• 7x8ft awning
• rear view camera

additional equipment:
• lightweight camping pots and pan
• lots of herbs
• 2x fold up chairs + fold up table
• Coleman Dual Fuel gasoline stove (2 burners)
• camping shower, coupled with rear heat exchanger and 12L canister (never used, currently disassembled for space)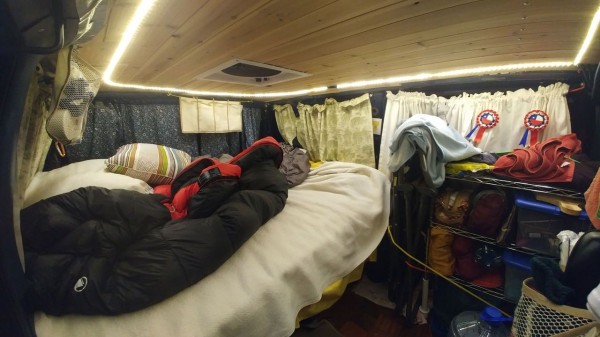 Saludos,
Tobi y Carina