CHEVROLET ASTRO VAN -available April 2020/Santiago de Chile
(Fahrzeug abzugeben)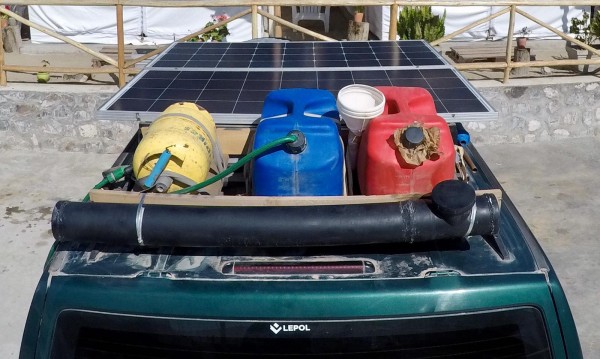 Available IN April 2020 - SANTIAGO, CHILE
* Our car "Hercules", your future home *
Location: Santiago, Chile.
Price: 8,700 USD/ 7 000 000 CLP / 7900€ -negotiable
CHEVROLET ASTRO VAN V.6 2004 4.3L RWD

We bought the car în January în Punta Arenas and drove all the way to Uyuni.
We are the third owners of this motor home, since it's been converted.
The car is automatic, reliable and strong and therefore named "Hercules".
Perfect for an individual or couple who wants a once-in-a-lifetime adventure and to experience South America in the most special and crazy way.
Vehicle Description:
• CHEVROLET ASTRO VAN
• Year 2004
• 4.3L engine
• Kilometers when sale: around 255,000 km - 260,000km
• V6
• Automatic
• Gasoline
• Rear Wheel Drive
• 100 liter fuel tank (about 750 km)
• Chilean plate
• Documents up to date
• Blackened windows
• reverse camera
• Radio system with BT connection
• additional clearance at the back
• cross-control button
Interior :
• Solar system:
- Two solar panels of 150W each (total 300W)
- Two DEEPCYCLE AGM batteries each of 100AH (total 200Ah)
- CHARGE CONTROLLER 30A Digital screen with 2 USB ports
- INVERTER PURE SINE WAVE 1000W
- Victron Energy Cyrix Battery Combiner that charge the batteries while driving from the alternate
- 12v cigarette light + USB connection
- Fuse box
* The solar system allows complete independence without the need for an external connection to electricity.
• Electronic devices:
- 32 liter refrigerator running on V12
- V12 water pump for sink
- 2 V12 LED lamps - one to the center of the vehicle and one to the kitchen area
- Fan (life saver!) 12V
- Blender (soups, shakes!) V220
• Central space:
- Bed (foldable) 1.90X1.30 includes two mattresses, 4 pillows and 2 blankets
- Bench that allows sitting while the bed is folded (good for hitchhikers and sitting in the car for cold and rainy days)
- Large shoes storage box
- Toolbox (fully equipped!)
- A place to store all the clothes next to the bed
- 2 box under the bed to store what you want
- Two large wooden boxes near the front seats for general storage
- 2 mattress and 1 tent
- Curtains that blocks light and heat
* We also put in the space under the bed - 2 big bags, 2 sleeping bags, 2 pairs of pools, 2 Hiking mats and a tent.
• Kitchen:
- Sink with 20 liter water tank + water pump
- 2 gas bottles (Chilean connection) of 2 kilos each (plus a gas bottle of 5 kilo spire on the roof)
- Kitchen stove
- 12V mini fridge (works 24/7)
- water heater
- 2 large drawers for storage
- drawer for spoons + spices
- All kitchen equipment required for cooking / eating (picture attached)
- 2 chairs
- Table
- Additional storage spaces (for toiletries, etc.)
• additional equipment:
- 20 liter tank of fuel on the roof
- 20 liter tank of water on the roof
- 10 liter tank in the car
- 10 liter shower (heated by the sun)
- A place to store a surfboard! (Below the panels)
- All required rescue equipment (picture attached)
- Spare wheel
- Steering wheel locker
• maintenances of the old owners :
- New main battery
- 5 new tires (including spare)
- renew AC system (new compressor, new AC filter, new evaporator)
- new hydraulic shock absorbers
- new distribution box and spark plugs.
- Replacement of the thermostat at
- Replacement oils and filters every 6000-7000km

*our maintenance:
restocked gas for AC în March
replacement oil and filters
The car has served us faithfully throughout the journey and we have taken difficult paths including high altitude (3000-4000m) and dirt road. The car also has an option of towing as well as speed 1,2 and 3 manual which makes it very powerful in the difficult ways (big climbs, sand, rivers etc ...)
An American car with the smallest details and very comfortable seats for long journeys.
We also had a lot of videos to explain everything about the van
---