VERKAUF Camper Van Ford E150 in Costa Rica Februar 2020
(Sonstiges)
After our 4 month journey from San Francisco to Costa Rica we (Ann-Sophie & Alex, couple from Germany) want to sell our Ford E150 Camper Van with californian plates (perfect plates for buying and selling a car as a foreigner!).
Where: Costa Rica
When: Between mid and the end of Febrauary 2020
Price: 7000 USD or 6300 EUR
The Car
Model: FORD E150 (ECOLINE)
Year: 2007
Miles: Its gonna be about 131.000 Miles / 211.000 km
Fuel: Gasoline
Extras: A/C, a lot of USB ports, Kenwood Audio System
We bought the car in October 2019 from Joe, a very nice retired men from Monterey Area in California. He build the van together with his son. It was a camper van of the family for about 7 years. Now they have a new and bigger RV, so they sold this beauty. But I can promise he looked very well of the van. In January 2020 we changed the brakes and did an general check in a automobile garage.
Interior:
GOALZERO YETI 1250 Portable Power Station (3 sockets, 3 USB-ports) with solar panel on the roof. It provides electricity for the fridge and the lights in the van.
Queen size memory foam mattress with 2 pillows and blankets
Stove with 2 flames and a 1 gallon propane tank
Mini fridge with a icebox
Kitchen with full equipment
2 boxes for clothing or other stuff
2 Chairs
Solar camping shower
Mosquito net
6 and 5 gallon water tank
5 gallon extra fuel tank
Little fan against the heat
We are more then happy about the van and it has everything we need for travel. The best is the fridge and the Goalzero Power Station, so we have enough electricity for every day and cool drinks in the hot sun of Central America. We had not one problem with the van and it drives really smoth. Because it has a little bit more ground clearance then other vans, we are able to drive really bumby dirtroads to get to unique spots.
Feel free to cantact us for more details. We also can send you videos or skype!
Mailadresse: alexanderknysch@gmail.com
Viele Grüße
Ann-Sophie and Alex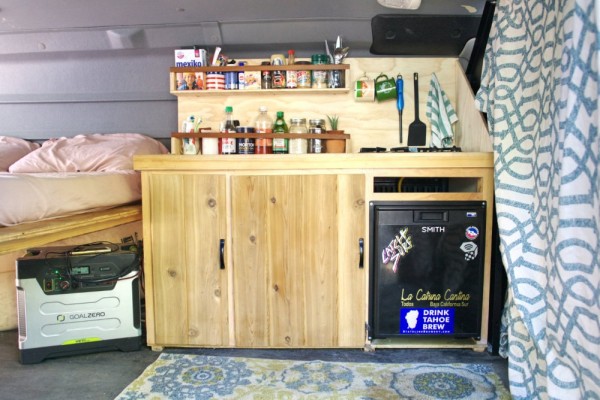 ---