Mercedes 310 Camper, 4x4
(Fahrzeug abzugeben)
We are Tina, Daniel and our 3 Kids. We are a German Family who traveled almost 2 Years through South-America in our Mercedes 310 Camper from 1987. His Name is "Bob".
We are the 3rd owners. The 1st owner bought it from a German fire Department. He rebuild totally the mechanic and electric Parts. He put a new Petrol Engine inside and made out a switchable 4x4 transmission.
This was really helpful in many situations and we could reach special areas in Southamerica, a normal 2 wheel drive car could not reach.
Then a swiss couple bought "Bob" and Re-Build the backspace very simple for their needs. They brought him to Uruguay and startet their planned 1 Year trip. After 5 month they broke up and we bought "Bob".
We put everything out of the back and build inside a totally new camper. We restore the kitchen. Install a Water-Pump, a custom made and huge Water-Tank, Updated and expand the Solar Panels, a new more powerfull 12 Volt Converter, installed a Gas-Heater, a mp3 Radio, designed a new Bed and Table construction, a wardrobe, space for tools, a custom made rear rack, and so on.
For us, it was very important using as much as possible sustainable Materials to build our Living and Sleeping-Zone in the Back. eg. we used Glue and wood finishing without solvent and replaced the old Glass wool in the casing into heat-mats.
After all, we were totally independent and could stay for long times on amazing places with every comfort a family of 5 could dream of. Details are below.
We bought the car for $ 22.500.- and invested about $ 4.000.-. Total invest: $ 26.500.-. But on our trip, we found out it was worth it.
The van is in a totally good condition. No rust in the motor, body or underbody.
The perfect Van for road and offroad conditions in South-America.
Here are some Hardfacts about our Bob:
- Motor: 2,3l Petrol Engine, 95 PS, Automatic, 123.000 km
- switchable four-wheel drive, reducers (SA/GA)
- 4x4 Leaf Springs
- Amazing 4 Wheels: Nokian Rotiva AT plus, still 80% Profile after 123.000 km!!!
- Solarpanel 2x 150W with Battery-Watch.
- 2 independent Batteries und the seats.
- Sink with 2-Flames Gas-Stove
- WAECO 35 Liter Freezer with Eco-Function
- ca. 100 Liter stainless Steel Fresh-Water Tank.
- maximum space for clothes, dishes, food, drinking water and tools for a family of 5.
- actually space for a huge double Bed for Adults, 1 Kids-Bed (up to 6 Years) and a Baby-Bed (up to 2 Years).
- 2 Seatbelts in the back also for Kids-Seats
- 3 Seat-Places in Front
Equipment included:
- 1x Adjustable Wood Table
- 3x Camping Chairs
- Navigation Garmin for Southamerica
- Some Travel Guides
- 1 Gasoline Canister
- 1 1/4 full Gas-Bottle
- Snow chains
- Wheel-Repair-Set
- Some important Tools
- 1 Small- Child Seat (1-3 years)
and so on.
We have some more Stuff left. Just ask us, if you are interested and we could talk about this and also what important things you still need.
Here is a Video of our smart and functional interior:
https://vimeo.com/234223741
And here you can find pictures and the story of Building up the camper:
https://lifeforfive.com/wohnmobil-ausbau/
IMPORTANT: The car has to hand over at End of December. Then it has to leave the country Peru!
Our price: $18.000.- (negotiable)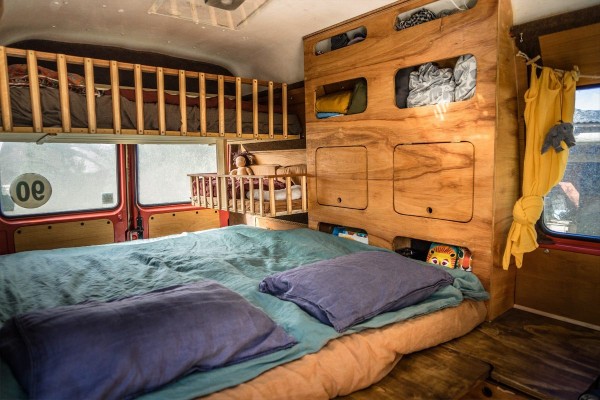 ---
Mercedes 310 Camper, 4x4

- Daniel y Tina, 16.08.2019, 22:03