Peugeot J5 for up to 6 Pers. mid-april in Buenos Aires or ne
(Fahrzeug abzugeben)
Peugeot J5 for up to 6 Pers. mid-april in Buenos Aires or nearwhere
We will be traveling Argentina and Uruguay until the April 10th and then want to sell our Camper.
The technical facts
Built in 1989; 2.5 liter diesel engine with 54 KW = 75 PS
The mileage is 246000 km so far. At 206000 the toothed belt and the water pump have been renewed. Oil change was performed regularly, as well as the diesel filter was renewed.
engine and gearbox never let us down
Facilities/The inside
Four-bike rack, alcove, gas bottle compartment, power supply. From inside you can turn on an outdoor lighting.
Inside the vehicle you have a kitchenette with a two plate gas stove and a sink.
A refrigerator with freezer that runs on electricity and gas.
A Thruma gas heater, a cupboard for clothes and various stowage / upper cabinets in the motorhome and in the alcove.
As can be seen on the pictures, there are two seating areas in the motorhome; one for four persons which can be converted to a sleeping place for three persons, and a seating group for two persons which offers sleeping place for one person. Two more sleeping spaces are located in the alcove.
Under all seating groups are more storage compartments.
The bathroom has a large mirror cabinet, a sink and a Theford toilet with electric flush which can be emptied from the outside
Included with the vehicle comes a lot of equipment: 2 mechanic anti-theft devices (one for the driving wheel, another one to put on one of the wheels), cookware (plates, pots and pans), bed clothes, a tent for 2 pers. and a mountainbike (if you want to)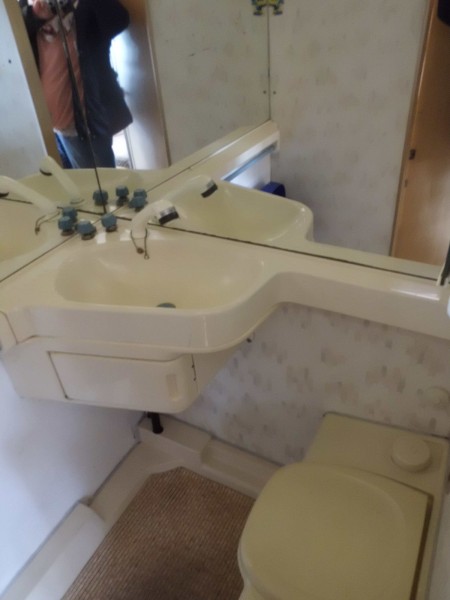 Organizational issues
The price we have in mind is 8000,-€/9200$ because of the good codition of the vehicle
Camper has german plates which means we will have to go to a notary to have a so called 'poder' (power of attorney) written which allows you to drive throughout South America.
As we will have a our return flight on april 17th 2019 leaving from Buenos Aires, we would like to sell it to somebody being close but it could also be possible going to Uruguay or Chile.
Don't hesitate to ask, i will respond your mail as soon as possible, max. within 24h.
---
Peugeot J5 for up to 6 Pers. mid-april in Buenos Aires or ne

- cosmo, 24.10.2018, 20:26